Amazon is expanding its aircraft fleet at a record pace, propelled by rapid growth in its e-commerce business.
Predictably, international expansion appears to be in low gear, but observers are scratching their heads over the firm's outright purchase of a 767 freighter.
The Chaddick Institute for Metropolitan Development at DePaul University, Chicago, has been tracking the e-commerce giant's air operations. In its latest update, issued on 10 September, it notes that Amazon has accelerated its fleet expansion this year.
Between May and July, it added nine freighters to its fleet – its biggest spurt to date in a three-month period.
Since then, it has brought on three more aircraft, bringing its freighter count to 54 units, which is 29% higher than at the start of May. Daily flight activity increased 27% between late April and late August to 108 movements, with aircraft utilisation rising to an average of 2.7 daily flights per plane.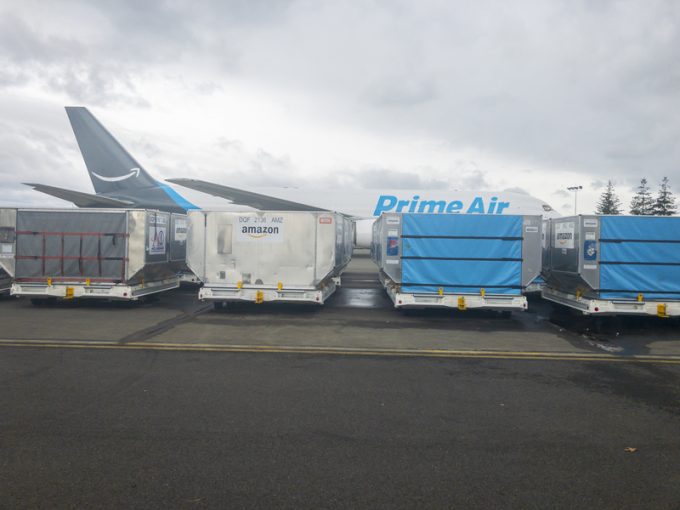 And the expansion continues: As Chaddick notes, Amazon Air is projected to take delivery of four more planes before the end of the year.
Last week, Air Transport Services Group (ATSG), one of Amazon's ACMI providers, announced it would be operating six more freighters for the client. In early June the pair had agreed on a lease for 12 B767-300 freighters.
To the surprise of pundits, at the end of August Amazon registered a 767-300 in the Federal Aviation Administration's database, and reserved four more registration numbers for future planes. This deviation from the leasing model it has pursued thus far is uncharacteristic, and has raised eyebrows.
"Contracting out seems a better solution," said Joseph Schwieterman, Chaddick's director and one of the authors of the study.
Equally surprising was the plane's first mission, which took it to Tel Aviv, he added.
"Their international network remains skeletal," he pointed out.
While Amazon's inventory has a global orientation, for the time being it seems content to use commercial lift and semi-regular flights to Shanghai and Amsterdam in the international arena. This setup is primarily geared to repositioning inventory, according to Chaddick.
"Airports like Amsterdam are well suited to truck across western Europe," Mr Schwieterman said, and he does not expect Amazon to establish an intra-European network in the immediate future.
Presumably the company has its hands full with its North American network, where e-commerce is going through the roof. In the second quarter, the company clocked up 40% growth in revenue, to $88.9bn, and it projects growth in the 24-33% range for the third quarter.
Between May and July, Amazon's flight activities have jumped at some airports, including new additions to the network. Lakeland Linder, Florida, went from no daily flights to 10 kast month (becoming the sixth busiest point in the network) and New York JFK from none to nine.
The addition of new 'mini-hubs' like Lakeland confirms Amazon's strategic network approach, which is designed to link warehouses and distribution centres and reposition goods rather than build an overnight hub-and-spoke network like the integrators, Mr Schwieterman noted.
"Amazon continues to put emphasis on serving several airports in areas having a concentration of warehouse locations. This pattern is evident by its regular operations at two or more airports close to Cincinnati, Dallas, Los Angeles, New York, San Francisco and Tampa," the study pointed out.
As a result, Amazon's flight network is more decentralised today than it was a few months ago. The percentage of its flights going through Cincinnati/Northern Kentucky Airport (CVG) dropped from 14.1% in April to 10.2%.
With 22 daily flights in August, CVG remains the busiest airport in Amazon's network and is undergoing massive expansion, which is expected to be completed next year.
"I think the Cincinnati operations could triple almost overnight," Mr Schwieterman said, pointing to the large infrastructure Amazon is building there and the airport's proximity to large warehouse clusters.
At the same time he expects to see more airports being added to the network in line with the company's trajectory so far.  One likely candidate in the west is Colorado Springs, where Amazon is opening a large fulfilment centre on airport grounds, while in the east, the Carolinas and the Atlanta region still seem under-served, he noted.
While Chaddick predicts Amazon's freighter fleet expansion will continue, the pace will slow at some point, Mr Schwieterman said.
"We're probably in a peak growth phase that can't last forever," he added.